Scientific Era Est. (SEE) aims to establish itself as Vendor of Choice in marketing, supply and service of Scientific and Laboratory Instruments.
SEE covers the entire scope in furnishing entire Laboratory to successful initiation of its operation:
Planning the best and optimized Laboratory Furniture Layout while keeping future expansion in consideration.
Specialized benches with re-enforced platform for balance and heavy equipment.
Laboratory Furniture comes with galvanized steel having worktops with anti-corrosive properties and various options for Island benches & cabinets.
Proper layout planning for instruments with consideration of samples and applications.
Latest and UpToDate equipment that reduces operation cost and increase productivity.
Specialized routing of various gas piping and manifolds covering the lab.
Cabinets for different types of chemicals with option for gas detectors.
Fume Hoods for chemically oriented samples and experiments.
Laminar Flows and Biological Safety Cabinets for various applications.
From basic laboratory instruments to specialized and customized equipment.
Consumables for all type of laboratory operation
Laboratory Information Management System (LIMS) enabling measurements centralized records, workflow automation and integration all instruments.
After sales maintenance, service, and calibration support. Serving Scientific Community, Industries, Quality & Testing Laboratories, Universities and Colleges forms part of our core business value and that is what SEE excels in.
@SEE we  don't just sell instruments only, but we establish long term relationship with our Customers and Clients and provide solutions to all their laboratory, research, testing and application needs.
Management & Employees at SEE follow and conform to Principle what has come to be known as :
MUSST UPHOLD – Customer Service Cycle; developed by SEE.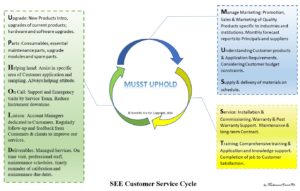 ——
Service Center:
Scientific Era has well maintained Service Area located in Jeddah to service our Customers and Clients. Our Service Area is full time staffed with experienced technicians to carry out repair and calibration of variety of equipment.
We select the best tools and provide well documented services to our Customers. Our processes are very rigorous to ensure Quality and Standard from receiving of equipment to dispatching and delivery.
Service Scope:
| | |
| --- | --- |
| Multi-Vendor Laboratory Equipment Services | Resident Engineer Services |
| On Call Services | Inspection and Diagnosis of Instrument |
| Breakdown Maintenance Services | Preventive Maintenance Services |
| Corrective Action Service | ISO 17025 Accredited Calibration Services |
| Performance Testing and Analysis | Training Services |
| Multi-Vendor Laboratory Maintenance Contract | Specialized Application Training |
| OEM Services | Project Evaluation and handling |
| Turnkey Laboratory Project | ISO & Management System Consultancy |
Serving Industries such as:
| | |
| --- | --- |
| Chemical | Petrochemical |
| Environmental | Petroleum |
| Food | Pharmaceuticals |
| Feed | Textile |
| Steel | Solar Energy |
| Beverages | Cables |
| Construction | Electric and Desalination Plants |
Calibration & Testing Services:
We provide several calibration services directly and through our affiliates. We offer our Customers complete service package to cover all their calibration and maintenance needs.
| | |
| --- | --- |
| Viscometer Calibration | Particle Counter |
| TOC Calibration | pH Meter |
| Autoclave | UV Spectrophotometer |
| Balance | Dimensional |
| UDT | Flow meter |
| Dimensional | Mechanical |
| Mass & Weights | Acoustics & Vibrations |
| Pressure | Temperature |